Effective Termite Treatments For Homes & Businesses
Termites are tiny insects that cause huge problems. Often getting into structures completely unnoticed, termite colonies can grow into hundreds of thousands of members, and all the while, eat away at the wood within your house or business. Whether you suspect an active termite infestation in your Bedford area home or want to prevent such a thing from occurring, Star City Pest Control & Wildlife Services of Roanoke, Virginia can help with effective termite treatments.
Our Termite Control Solutions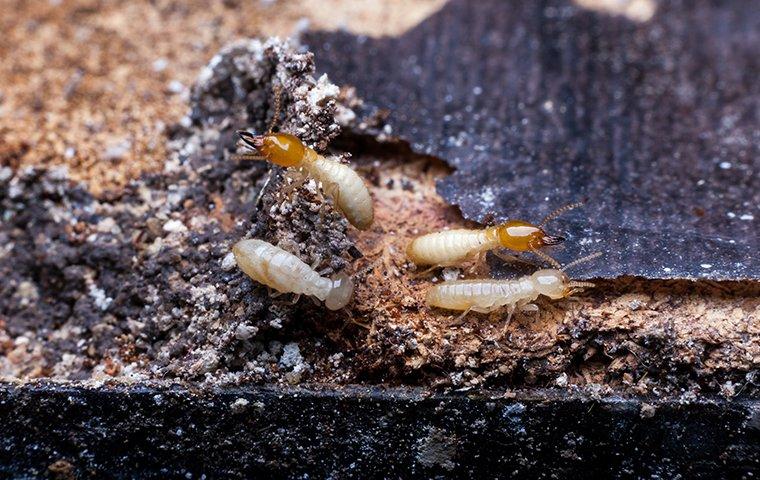 Whether you need termite control for your home or business, wish to have a pre-construction treatment performed on a new building, or need a WDO report or real estate inspection, Star City Pest Control has you covered!
Liquid Termite Treatments
As a certified Termidor® provider, SCPC uses this liquid termite treatment to get rid of termites and prevent them from re-infesting.
How Does Termidor® Work?
Termites can't avoid what they can't detect.

Termidor® is an advanced undetectable liquid technology. That means termites cannot see, smell, taste, or avoid it. Instead, they contact, ingest and share Termidor®, completely unaware that doing so inevitably will kill them.
Termidor® eliminates termites several ways. When termites eat Termidor®-treated material, they will die. But Termidor® doesn't stop there. It eliminates termites by contact as well. And since termites can't detect its presence, termites can directly ingest and contact Termidor® as they go about their normal routines.
The Termidor® "Transfer Effect™"
Whenever a termite ingests or touches Termidor®, it can become a "carrier," transferring Termidor® to other termites it contacts. These termites, in turn, can become secondary carriers, behaving normally while they transfer Termidor® to other termites they contact - and so on within the colony. Because Termidor® is slow-acting, it gives individual termites ample time to transfer it to others in the population. This unique, spiraling process is called the "Transfer Effect," and its devastating results maximize the protection of your structure.
Several areas of your home are more prone to termite attack. Dirt-filled porches, expansion joints for basements, garages, and slabs, siding to soil and low siding areas, and areas of the crawlspace. By applying material in the right places, your home can be free of termites and protected from future termite attacks.
Treatment is injected into the soil around the perimeter of structures through the use of rods. It forms a continuous barrier of protection, not only eliminating the termites who eat the termiticide but also bonding with termites that walk through it. Its unique transfer effect allows the termiticide to be transferred from one termite to another, eventually eliminating the entire colony.

For as long as you retain our termite control services, we will return every quarter to inspect your home or business from these wood-destroying insects. If we find signs of termites, we will re-treat.
Pre-Construction Termite Treatments
Before you build your home is the perfect time to protect it from termites. During a particular phase of building, we will treat your home with Bora-Care, a green termite control product. We will also provide your builder with a five-year renewable guarantee.
WDO/WDI Reports And Real Estate Inspections
Many lending institutions require you to file a Wood Destroying Organism/Insect Reports before they approve a loan. This inspection protects the homeowner and lender from finding out after the purchase that the home has extensive damage due to wood-destroying insects, such as termites.

Star City Pest Control provides these inspections and reports. We can even finish your report on the same day as the inspection to help ensure the sale or financing process goes through.
Contact Star City & Don't Give Termites Another Thought
Termites may not be a pest you think about very often, but if your structure is not protected, you should. They can cause serious damage if they find a way into your home or business. By partnering with Star City Pest Control & Wildlife Services for termite control in Roanoke, Salem, Vinton and the surrounding areas, you can put termites out of your mind for good. Contact us to schedule a free inspection.
Request Your Free Inspection Today
Complete the form below to schedule your no obligation inspection.
*wildlife inspections start at $99.