Three Easy Mosquito Prevention Tips For Roanoke Properties
5/14/2021
With the warm weather and sunshine finally returning, it means more time spent outside playing. Unfortunately, it also means that more pests become active. During this time, mosquitoes are especially active, which is why it's important to be as prepared as possible.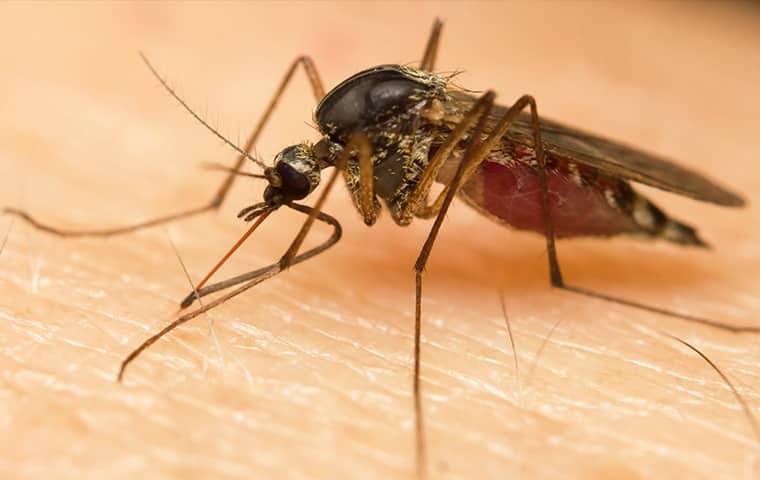 Mosquitoes possess tiny, grey bodies that fly around like any other small flying insect. They also possess a straw-like appendage at their mouth to help them drink your blood, which is done for nourishment. As a rule, mosquitoes hang out where there is plenty of water, hedges or bushes for nesting, and of course, plenty of people.

While the itchy welts they leave behind are annoying, the truth is mosquitoes are a much larger problem than an itchy bite. For this reason, it's vital to understand how dangerous this pest is for Roanoke property owners.
Mosquitoes Are Dangerous! Period!
There is no such thing as a safe mosquito. However, since serious side effects don't happen with every single bite, mosquitoes have been flying around with an undeserved reputation as being a simple nuisance. However, they are one of the most dangerous animals in the world.

Mosquitoes transmit diseases with their bite due to the pathogens and bacteria they carry. Each potential disease is harmful, with some of them being potentially fatal. Some of the most common illnesses include West Nile virus, eastern equine encephalitis, and Dengue fever. If traveling internationally, you also need to be concerned with other diseases such as yellow fever and malaria.

Keep in mind that disease doesn't occur with every bite. Pay attention to any bites received and any symptoms that develop to ensure you stay ahead of any potential problems. With such potential danger, the most effective thing you can do is to practice effective mosquito prevention in conjunction with professional mosquito control services.
Your Prevention Tips To Follow
Mosquitoes won't stop coming around completely without direct intervention and protocols. Fortunately, we have three tips to follow that will put you ahead of the curve. These helpful tips are:
Eliminate Standing Water: This is by far the most important way to prevent mosquito infestations. This pest needs water to a high degree, which is why any standing water like a puddle or active birdbath can equal mosquitoes sticking around. Eliminate all sources of accessible water and they'll find somewhere else to go.

Landscaping: Next to water, it's all about maintaining your yard. Mosquitoes use your plant life to nest and reproduce. Mow the grass, trim and treat the hedges, and keep all plants a minimum distance from the house to give yourself the best chance at successful mosquito prevention.

Time Management: Mosquitoes need people since they require your blood to stay alive. If they can't find you, they'll look for other people. Mosquitoes are most active during dawn and dusk. Make sure you're not available during these times and they'll likely give up.
Mosquito Control With Star City Pest Control
While prevention tips are certainly helpful, the best thing you can do is to invest in professional mosquito control. Our team at Star City Pest Controlworks with you to ensure a successful treatment the first time.
For every case, we follow a three-step protocol, which is to perform the initial inspection, initial treatment, and then establish the necessary ongoing treatments. By doing so, our team can ensure your problem is taken care of today and never comes back around for the mosquito-free property you desire.
Are you in need of mosquito control services? Then give our team at Star City Pest Control a call to speak with one of our agents about our professional pest control options or fill out our online form to schedule your free inspection.