Expert Advice On Ant Control For Your Roanoke Home
5/14/2020
When ants mobilize into an army and enter your home, it can be startling. Some ant species can have hundreds of thousands of ants in a single colony. Their sheer numbers can have you wondering how on earth you're going to deal with them. But things can seem much worse when you open up your pantry and find your food packages covered in ants. How do you deal with that? Today, the experts here at Star City Pest Control are going to offer some advice for ant control. Whether you're currently battling an ant infestation, or you'd like to not have ants in your Roanoke home, this quick guide to ant control should help.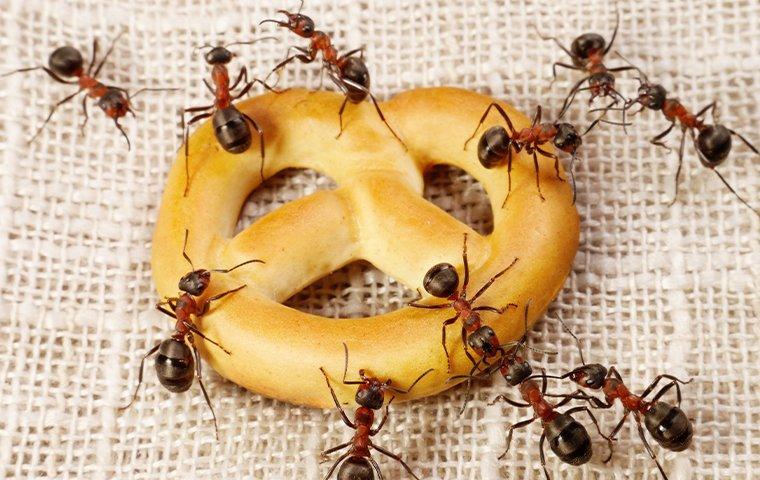 Before Ants Get In
If you don't have an infestation yet, there are several things you can do to avoid one without the need for pest control products. The secret is to remove what attracts ants and seal potential entry points.
Exterior Moisture — The first step should be to address moisture around the outside of your home. This will help to reduce ant activity in a few key ways. It will protect the wood of your home from decay and resist carpenter ants. It will protect the vegetation in your landscaping from decaying and attracting plant-damaging pests that produce honeydew, a food source for many ants. And most of all it removes one of the building blocks for insect life.
You can reduce moisture around your home by:
Cleaning your gutters.

Fixing leaking spigots.

Trimming tree canopy.

Trimming bushes and landscape vegetation.

Watering plants in the morning.
Interior Moisture — Once ants get into your home, they'll want to stay if they are able to find areas that are humid. A dry home is a pest-resistant home.
You can reduce humidity by:
Installing dehumidifiers or fans in locations that are humid.

Fixing leaky faucets or pipes.

Using the fan in your bathroom when you take a shower or bath.

Refraining from leaving water in your tub.

Having the crawl space under your home encapsulated.
Seal Entry Points — While it is impossible to seal every entry point an ant can use to get into your home, sealing what you are able to seal can have an impact.
Common entry points to address are:
Gaps around door and window frames.

Missing or damaged weatherstripping, doors sweeps, and screens.

Cracks in foundation walls.

Damaged mortar around bricks.

Gaps around pipes and other foundation wall penetrations.
Food Sources — This is another attractant that you can't fully remove, but you can resist ants by reducing food options.
Resist ants by:
Cleaning your exterior trash receptacles.

Cleaning up any juice or food spills in your garage.

Refraining from feeding pets outside or only putting food down during mealtimes.

Putting bird feeders at least 20 feet from your exterior.

Interior sanitation is essential for ant control because it eliminates the primary reason most ants will mobilize an army and come into your home.
After Ants Get In
If ants have already gotten into your home, there are a few things to consider.
Spraying ants with something that will kill them can cause the colony to bud. This turns one colony into two, three, or more. That's not going to solve your problem.

Cleaning ants up will remove the ant trails that a pest professional can use to find ant nests and concentrate their ant control efforts.

Bait is often the best solution to arrest ant infestations. This, combined with an application of caulk to vital areas, can get your ant problem under control.

Proper identification is key to selecting the right bait or control products for the job.
If You Need Help
Dealing with ants can be complicated, frustrating, time-intensive, and exhausting. If you need help eliminating an infestation or preventing an infestation, remember that Star City Pest Control is available to help. Reach out to us any time.