Are Bed Bugs Biting In Your Home?
NO PREP! Don't spread a bed bug infestation. Bed bug assurance programs are available with any pest control program.
Bed bugs are invading homes all over the U.S., and no one's house is immune. The way bed bugs travel allows them to end up in a swanky hotel as easily as a rundown shack. If you are waking up with itchy red bites on your body, you may have a bed bug infestation. Star City Pest Control & Wildlife Services can eliminate the infestation for you.
Our Bed Bug Control Process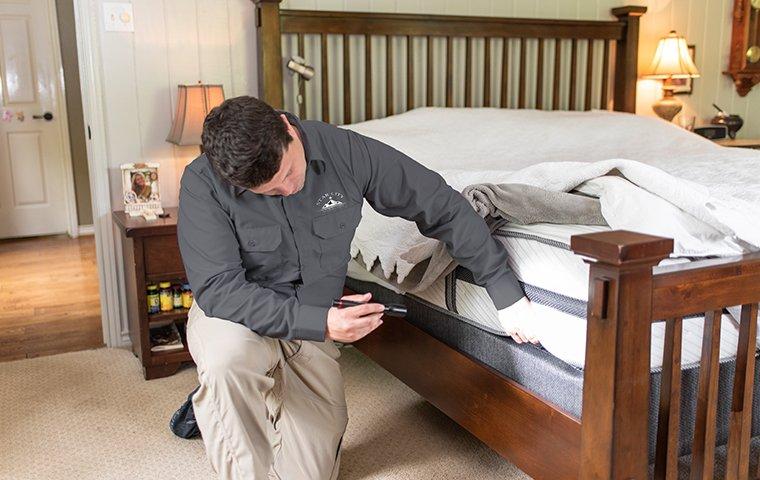 Free Bed Bug Inspection
Finding bites on you or your family members in the morning is a likely sign that you have bed bugs, but it's not entirely conclusive. If you suspect bed bugs are present, but aren't sure, request a free bed bug inspection from Star City Pest Control & Wildlife Services. Our expert service technicians will inspect the places where bed bugs are most likely to be present, including furniture, mattresses, electrical outlets, curtains, and more. If a bed bug infestation is confirmed, we'll set up a treatment plan with you.
Bed Bug Treatment
Our bed bug control service is a three-step process that begins with an initial treatment. Each treatment takes about two hours, with two service technicians working together. Your initial treatment includes:
Treating box springs and mattresses
Treating all furniture
Dusting all voids, electrical outlets, and light switches
Fogging the entire home
Installing mattress liners
Follow-Up Treatments
A follow-up treatment takes place 14 days after the initial treatment, then another 14 days after the first follow-up. These visits include:
Treating box springs and mattresses
Treating all furniture
Fogging the entire house
If bed bugs are still present upon completion of the third treatment, we will schedule an additional follow-up visit.
We'll Eliminate Your Bed Bug Problem, Guaranteed!
At SCPC, we stand behind our services and are confident in our ability to eliminate your bed bug infestation. After your final treatment, a 60-day warranty goes into effect. If you find bed bugs in your house during the 60 days, we'll return to re-treat your home at no additional charge. If you suspect bed bugs are present in your house, contact us to schedule a free inspection.
Request Your Free Inspection Today
Complete the form below to schedule your no obligation inspection.
*wildlife inspections start at $99.