Are Bed Bugs Biting In Your Home?
NO PREP! Don't spread a bed bug infestation. Bed bug assurance programs are available with any pest control program.
Bed bugs are invading homes in Virginia and all over the U.S., and no one's house is immune. The way bed bugs travel allows them to end up in a swanky hotel as easily as a rundown shack. If you are waking up with itchy red bites on your body, you may have a bed bug infestation. Star City Pest Control & Wildlife Services can eliminate the infestation for you.
What is the No-Prep Philosophy?
No-Prep is how we deliver our bed bug services because we know the risks of moving bedding, clothing, and other items in your home can disperse bedbugs, making additional treatments necessary. When the bugs are disbursed into other areas of your home this causes additional stress, not to mention additional treatment cost. Unlike other companies, our No-Prep Philosophy reduces the number of technician follow-up visits and expedites successful bed bug elimination in your home.
The No-Prep Philosophy was created with you in mind, as our goal is to solve your problem in the quickest, most convenient way. We understand that bed bug infestations can be a very frustrating and emotional experience. This is why we take the burden off of you and work fast to get rid of bed bugs quickly, without additional preparations before treatment; while also offering a guarantee after the service is complete.
The No-Prep Philosophy was created by entomologist Dr. Richard Cooper. Dr. Cooper is the author of numerous articles in industry trade journals, has published over 20 scientific publications in peer-reviewed journals, including The Bed Bug Handbook: The Complete Guide to Bed Bugs and Their Control, and is frequently invited to speak at scientific and pest management industry meetings. Dr. Cooper has been involved with Bed Bug Central for several decades while also helping pioneer the successful mattress and box spring encasements that are widely used as an industry standard. With his scientific research he identified a need for a product that was necessary to create a bite-proof and escape-proof tool to protect where bed bugs hide most: the mattress and box spring. At Star City Pest Control, we believe that encasements are vital and not optional for total bed bug elimination. That's why encasements are installed for every client for our bed bug service and no extra fees are charged. He was also involved in the development of bed bug monitors. Dr. Cooper was part of a team that created the blackout which is currently used for monitoring and capturing bed bugs. Once these interception devices capture bed bugs, they can't escape.
How does No-Prep benefit you?
Bed bug elimination can be guaranteed with minimal or no effort of your behalf.
Bed bug mattress encasements and bed bug monitors are provided and installed by our professionals with no participation required by you.
You do not have to prepare your home for bed bug treatments. That means no flipping over mattresses, emptying your dressers, moving furniture, or vacuuming.
Our specialized technicians are the best trained in the industry. We know bed bugs are sneaky and can be hard to find which is why we train our technicians to easily pinpoint where they live and breed!
We are so confident that you will be completely satisfied with our service that we offer a 3-month guarantee after we declare your home bed bug free with no bugs and no bites.
Our Bed Bug Control Process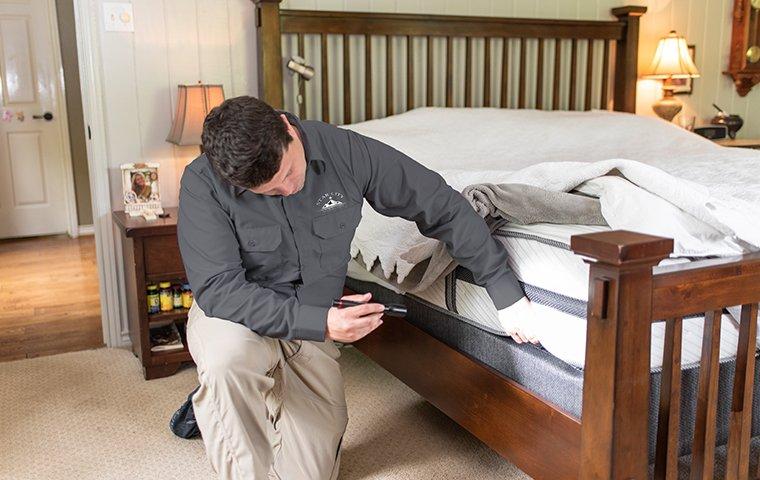 Free Bed Bug Inspection
Finding bites on you or your family members in the morning is a likely sign that you have bed bugs, but it's not entirely conclusive. If you suspect bed bugs are present, but aren't sure, request a free bed bug inspection from Star City Pest Control & Wildlife Services. Our expert service technicians will inspect the places where bed bugs are most likely to be present, including furniture, mattresses, electrical outlets, curtains, and more. If a bed bug infestation is confirmed, we'll set up a treatment plan with you.
Initial Bed Bug Treatment
Our no-prep bed bug control service is a three-treatment program. Each treatment takes about two hours, with two service technicians working together. Your initial treatment includes:
Spray baseboards
Dust all voids, electrical outlets, and light switches
Box spring and mattress encasements
Install monitors and lures
Treat furniture
Vacuum bed frames
Steam/heat where needed
We will do any prep work needed
Follow Up Bed Bug Treatments
A follow-up treatment takes place 14 days after the initial treatment, then another 14 days after the first follow-up. These visits include:
Monitor traps and lures
Treat furniture
Spray baseboards
Vacuum if needed
Steam/heat if needed
If bed bugs are still present upon completion of the third treatment, we will schedule an additional follow-up visit.
How Does Star City Pest Control Get Rid Of Bed Bugs?
As part of our bed bug service we install blackout interception devices under bed legs where we suspect or treat for bed bugs to make sure we properly eliminate the bed bugs in your home. In addition to reducing populations, these monitors can provide valuable information about the direction from which bedbugs may be coming when travelling to the bed. If bugs are being trapped primarily under one leg of a bed it suggests that bedbugs are harboring close to that leg; this information can be used to perform targeted follow-up treatments, which can also shorten the time required to eliminate a bedbug infestation.
Encasement of all mattresses and box springs
Following a visual inspection to determine where fecal matter from bed bugs is found, we will steam two feet around the affected area to ensure that they are eliminated.
Application of environmentally conscious pesticides. Our technicians will use pesticide dust to eliminate pests behind beds, switch plates, carpet tack strips, etc. Liquid pesticides are also applied to baseboards to exterminate any bed bugs that may be hiding there.
Since every infestation is different, we tailor our bed bug solutions to quickly eliminate your problem.
At SCPC, we stand behind our services and are confident in our ability to eliminate your bed bug infestation. After your final treatment, a 60-day warranty goes into effect. If you find bed bugs in your house during the 60 days, we'll return to re-treat your home at no additional charge. Call us at 540-339-7888 or fill out our contact form to schedule an inspection at your home. You're one step closer towards getting rid of bed bugs with our guaranteed no-prep service and getting back to your daily activities without worrying about bed bugs in your life.
Request Your Free Inspection Today
Complete the form below to schedule your no obligation inspection.
*wildlife inspections start at $99.