What are American roaches?
The American cockroach is the largest species of household invading roach living in the United States, and cockroaches in your Roanoke, VA home can cause many problems.. Adults have the potential to grow to be more than 2 inches in length.
These roaches are a reddish-brown or mahogany color. The area behind their head has a yellow band around that creates a figure-8-like pattern. They have fully developed wings and are capable of flying.
American cockroaches are omnivores and their diet usually consists of decaying plant and animal matter, though they do eat just about anything they come across including non-food items like paper, fabrics, and glue.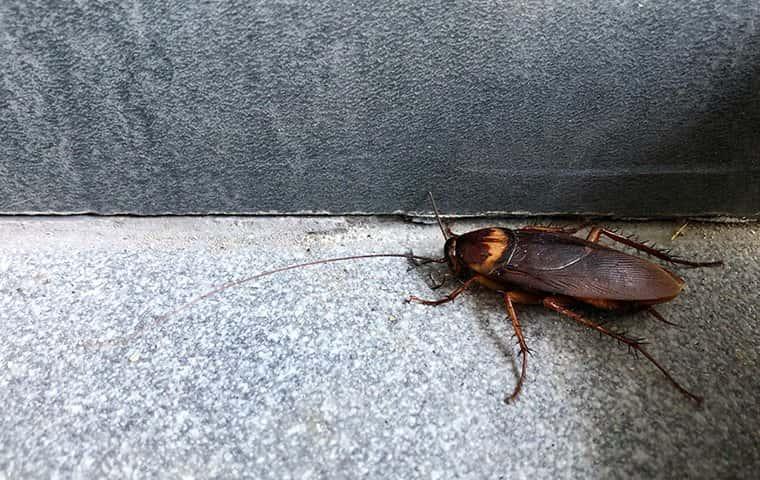 Are American cockroaches dangerous?
Cockroaches, in general, are very dangerous pests and American cockroaches are no exception. American cockroaches feed and live in areas that are not sanitary and that harbor dangerous bacteria- bathrooms, drains, sewers, and dumpsters. They carry bacteria, humans pathogens, and parasites on their body and after finding their way into a home or business spread those things throughout it.

They contaminate surfaces, food prep areas, dishes, drawers and more with pathogens that cause vomiting, fever, and diarrhea. Their excrement and shed skins build-up triggering allergies or even asthma attacks in some people, especially young children. Their feeding habits also damage things like upholstered furniture, books, clothing, and other personal items.
Why do I have an American cockroach problem?
American cockroaches take shelter in outdoor hiding spots that are very close to the exterior of homes and businesses. Their close proximity to buildings allows them to find their way inside while foraging for food. They may also move inside if the weather outside becomes too hot and dry- American cockroaches have high moisture requirements.
Common entry points include cracks in the foundation, gaps around windows and doors, spaces around air-conditioners, or drains. They also are also introduced into homes and other buildings inside of boxes, packages, or potted plants.
Where will I find American cockroaches?
American cockroaches live outside in warm moist areas lie under mulch, hollow trees, flower beds, logs, landscaping ties, and woodpiles. While these roaches prefer to live outside, they do find their way inside, usually while foraging for food and water.
Inside they hide in dark secluded places in that are in the basement or on the first floor. American cockroaches live under sinks, around bathtubs, in basements, in drawers, and behind walls around furnaces or hot water pipes.
These roaches are common invaders of homes and commercial properties like restaurants, food processing facilities, hospitals, and schools.
How do I get rid of American roaches?
When it comes to American cockroaches, the best way to eliminate them and prevent their return is with the help of a Roanoke pest control company. By partnering with Star City Pest Control you will have the peace of mind to know your American cockroach problem will be completely solved.
Our dedicated professionals take pride in providing the pest control services for roaches in homes and businesses. Star City Pest Control & Wildlife Services protects Roanoke, VA area properties from American cockroaches and other pests. Schedule your free cockroach inspection today!
How can I prevent American roaches in the future?
If you are looking for additional ways to protect your property from American cockroaches, the following prevention tips will help. Our American cockroach prevention tips include:
Sealing cracks and crevices in the foundation.
Place weather-stripping around windows and doors.
Store garbage cans, compost, and woodpiles up off of the ground and away from the outside of your home.
Make sure garbage cans and compost bins have locking lids.
Repair leaky pipes.
Dry out basements and reduce the humidity levels in your home by running a dehumidifier.
Pick up pet food each evening.
Store food in the refrigerator or in containers with air-tight lids.
Regularly vacuum.
Keep storage areas free of clutter and well-organized.
Inspect bags, packages and potted plants for roaches before bringing them into your home.
Request Your Free Inspection Today
Complete the form below to schedule your no obligation inspection.
*wildlife inspections start at $99.