Are Squirrels Planning To Invade Your Salem Home?
10/17/2019
As the weather cools down here in Salem and winter comes into full swing, many things will be changing. Grocery stores will be filled with Thanksgiving and Christmas treats, winter clothing will be purchased, and squirrels will be looking for ways to get into your attic. You may have been lead to believe that squirrels only store nuts and build nests in trees. This is further from the truth. Why build a home in a cold tree, when you can live atop a warm mansion? At least that's how your home is viewed through the eyes of a squirrel. As winter arrives, will squirrels be planning to invade your Salem home? Will you be prepared to stop them?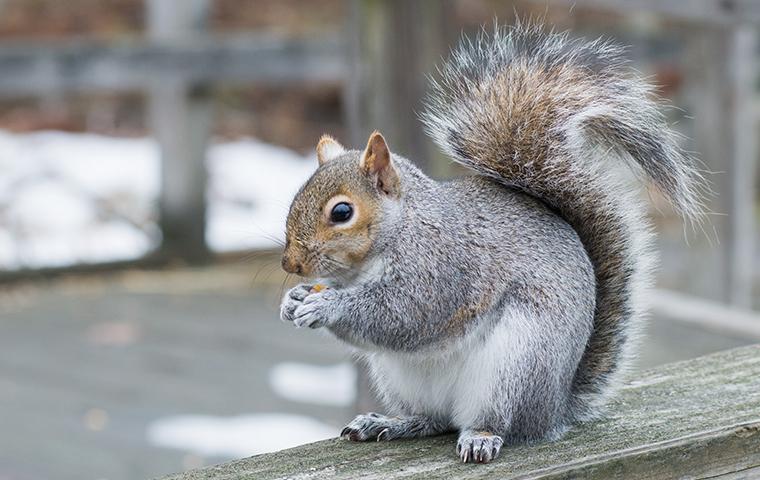 The Big Problem Squirrels Can Be
Squirrels are not like mice and rats. You won't find them in your kitchen scavenging food late at night, they are unlikely to be chewing holes through your baseboards, and they are not going to stick around come spring. This does not mean, however, that they can't be a big problem. If squirrels were to invade your attic, your attic would become their nesting place as well as their bathroom. This means two things:

1. They will tear up paper, fabric, and insulation to construct their nests with.
2. Your attic will be filled with pellets of fecal matter come spring.

The second of these two problems is the most concerning, mainly because squirrels can spread diseases through their excrement. Some of the most common ailments they spread include tularemia, typhus, ringworm, and plague. Fortunately, none of these diseases are fatal; unfortunately, their symptoms can be rather unpleasant.

Regardless, who wants to be hearing squirrels pitter-pattering about above their heads at all hours of the day?
Signs Of A Squirrel Infestation
Unless you have soundproof ceilings, you should be able to hear squirrels if they have gotten inside. You can also check attic spaces for the excrement we mentioned earlier. Squirrel excrement looks like curled black, brown, or tan pellets. When up in your attic, also look for damaged insulation, fabric, cardboard, and paper-based products that the squirrels have torn up to build nests. While doing all this, be careful. If you see a squirrel, do not try to handle it, as some can be rabid and dangerous if interacted with.
Squirrel Prevention Tips
To keep squirrels out of your home this winter, you need to eliminate the ways they can get inside. Here are some practical tips:
Do not feed squirrels on your property, despite how cute they look eating peanuts.
Keep branches trimmed at least 10 feet from the exterior of your house.
Install wire mesh screens inside gutters and exterior vents.
Make sure your chimneys are equipped with rodent-proof caps.
Clean acorns and other nuts from your lawn as they fall from trees.
Seal up gaps and cracks in your exterior foundation using a caulking gun.
If possible, remove bird feeders from your property, or invest in ones that are squirrel proof.
Repair damage around your roofline that squirrels could use to squeeze inside.
Install 2-foot high metal sheets around trees close to the exterior of your house.
How To Get Squirrels Out If They Get In
If despite your best efforts, squirrels manage to find their way into your home this winter, the Salem pest control professionals here at Star City Pest Control & Wildlife Services are ready to help. We have the experience and equipment needed to handle squirrel infestations of all sizes.
For effective wildlife control in Salem and surrounding areas, contact SCPC today!
Don't wait to get squirrels out of your house. Give us a call today and find your freedom from pests.