What Should I Do About Odorous House Ants In My Roanoke Home?
4/15/2022
Odorous house ants get their name from the distinctively foul, rotten smell they emit when crushed. Although these industrious little insects aren't all that dangerous in the majority of cases, they are considered nuisance pests for a very good reason. They'll stop at nothing to infest your food and spread throughout your home as they expand their colony, and their numbers can quickly become completely overwhelming. If you need some tips on how to get rid of odorous house ants in your Roanoke home, you've come to the right place. Read on to learn everything you need to know about these pests, including the key to effective ant control.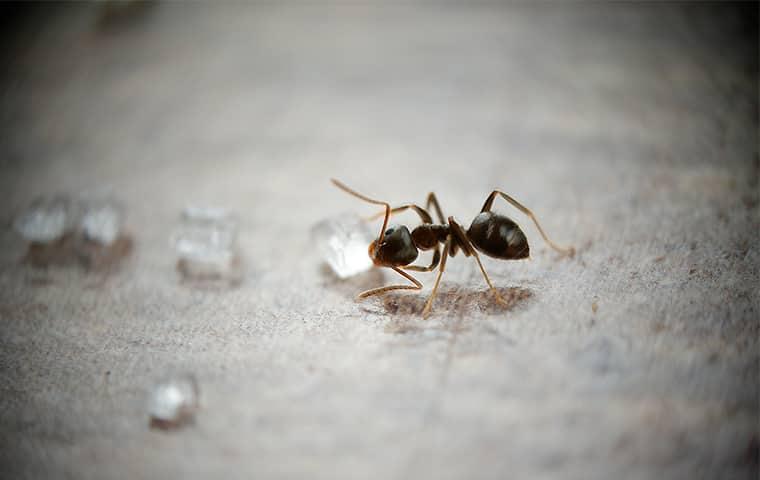 Does Having Odorous House Ants In My Home Mean It's Dirty?
Not necessarily, no. An extra emphasis on cleanliness and order can certainly help to deter these prolific scavengers, but an infestation can happen to nearly anyone. Odorous house ants are naturally drawn to three main things that every home has in abundance: food, water, and shelter. They usually infiltrate homes through tiny cracks in the foundation, walls, or even sometimes slip in under doors and windows. They are especially attracted to sugary substances and excess moisture, and will often establish new nests inside the walls of homes near water heaters, pipes, or in kitchens.
Will Odorous House Ants Go Away On Their Own?
As long as your home provides these pests a steady supply of easy food and water, they'll continue to propagate. Their colonies can become quite expansive inside the walls or around any organic debris near your home. If you notice signs of odorous house ants in your Roanoke home, you should take action as soon as possible, since if you've seen one, there are likely many more where it came from. Even better would be to prevent ants from entering your home in the first place.
How To Prevent Reinfestation In Your Home
Whether you've already had to deal with a pesky odorous ant infestation in your Roanoke home, or just want to make sure you never have to, you'll want to know these tips on how to protect your property:
Eliminate excess moisture.
Keep grass, hedges, and trees neatly trimmed.
Seal up any cracks around the exterior of your home.
Install window screens and door sweeps.
Store food in airtight containers.
Dispose of trash in an elevated location away from the home.
Store firewood far away from the home.
These steps will provide you a solid head start against potential odorous ant infestations, but for complete protection, there's one last thing we highly recommend.
How Can I Get Rid Of Odorous House Ants Permanently?
Odorous house ants go through an extremely prolific breeding cycle as they expand and continue to infest your food, quickly growing from a minor problem to an overwhelming nuisance. Just about the only upsides to these prolific pests are that they don't tend to spread any diseases, and their bites are merely irritating, not dangerous. Everything else about them, however, seems almost designed to annoy and disrupt your household. If you need help getting rid of odorous house ants in your Roanoke home, look no further than the experts at Star City Pest Control & Wildlife. When you partner with us, you'll receive the very best in personalized pest control, your satisfaction and continued safety guaranteed. Call now to schedule your inspection, and one of our certified technicians will be there as soon as possible to assess the situation, identify key problems that may have led to the infestation, take care of the problem, and work with you to establish proven prevention measures for the future.