Does Your Home Or Business Have A Bat Problem?
When you think about wildlife infestations, bats are probably the last animal that comes to mind. While these flying, short-sighted mammals usually leave humans alone, there are a lot of bats that inhabit the many forests around the Roanoke, VA area.
When it comes to wildlife infestations, the experts at Star City Pest Control have seen it all – including bats. If you think you've got a bat problem in the attic, chimney, eaves, or upper floors of your home or basement, the technicians at Star City know just how to handle it.
Our Bat Control Process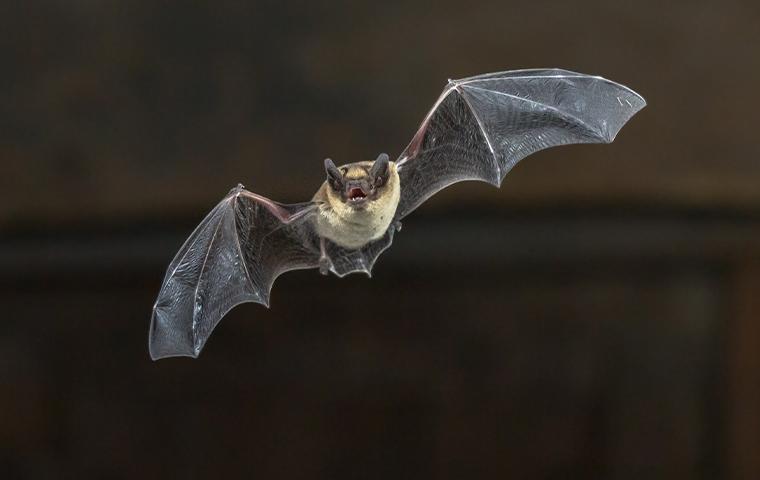 Wildlife Inspection
If bats are bumping around your property, it could be a sign of other infestations as well. We do a thorough wildlife inspection that confirms two things: where the bats came in, and if there are any other pests in the house.
Our inspection process includes any clean-up necessary. Bats themselves are relatively harmless, but their presence in households can cause both structural damage and health problems. Once we've confirmed the presence of a bat infestation, we clean around the area and lay down virucidal chemicals to clear any infectious diseases.
Finally, we take down any insulation that the bats may have damaged. After our bat inspection is complete, we craft and implement a plan to remove these pests from your property.
Bat Removal Services
Usually, bats move into your home or business because it provides a safe space for shelter. However, your home doesn't provide the food bats need to survive, so these pests are moving in and out of the property throughout the night.
When we remove bats from the property, we install a one-way door: the bats can go out, but they can't come back in. Before long, there won't be any bats left to wreak havoc on your home or business. We also fog your attic, chimney, and other bat-infested spaces to remove any bugs that the bats may have been carrying. These bugs don't usually bother humans, but you can never be too safe with pest control.
We'll leave this one-way door up for a few weeks or a month – as long as it takes for all bats to leave. We'll perform an additional clean up afterward, if necessary. After a year, we'll follow up with you to make sure your property is still bat-free – though you're always welcome to reach out if you think the bats are back!
Count On Virginia's Bat Control Experts!
The technicians at Star City Pest Control & Wildlife Services have dealt with every wildlife infestation you can think of, and more. If you're struggling with bats, insects, rodents, or other forms of pesky wildlife, Roanoke's comprehensive pest control team promises to clean up your residence or business. Contact us today!
Request Your Free Inspection Today
Complete the form below to schedule your no obligation inspection.
*wildlife inspections start at $99.