Local Roanoke, VA Pest Control Experts
With over 30 years of experience in the pest control industry, Star City Pest Control provides full-service pest control to Roanoke, Salem and Vinton, and the surrounding communities.
Offering residential and commercial services for a wide range of pests, we take pride in our work and always strive to do the job right. Our goal is not to sell a product; it's to form a relationship with our customers and deliver a solution to your pest problems.
Why Choose Star City Pest Control & Wildlife Services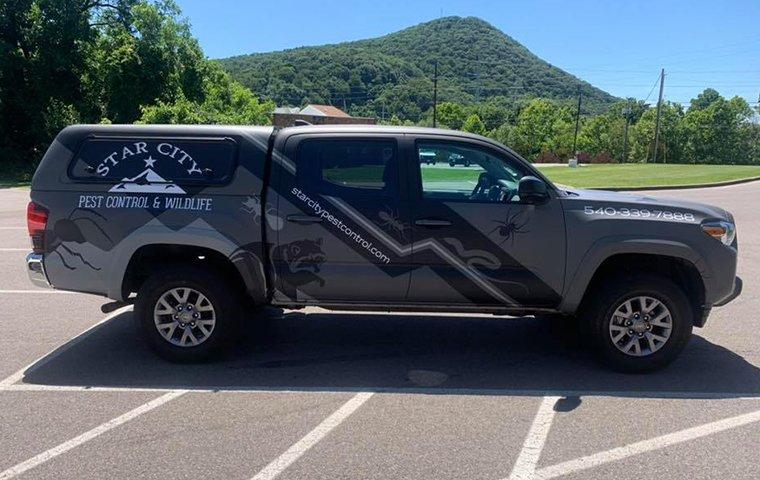 Although Star City Pest Control is the new pest control company in town, that doesn't mean we're inexperienced. There are many reasons why we are the right choice to solve your pest control problems.
We are a locally-owned and operated pest control company serving Roanoke and the surrounding communities.
We have a wildlife expert on staff ready to design a wildlife removal program specifically for your property.
Our pest control technicians are highly trained and qualified to tackle any job, big or small.
Unlike other companies who try to get in and out as quickly as possible, our goal is to take our time to ensure we're doing the job right.
We take pride in our work.
We're not about selling a product; we're about solving your problems.
We want to form a relationship with our customers. Not only do we provide a service, but we also educate our customers to help you prevent future pest problems.
We provide home pest control and commercial pest control solutions that get rid of roaches, rodents, ants, and more!
We offer general pest control and a variety of specialized services.
We offer free pest and termite inspections.
We provide emergency services and same-day services for wildlife.


Expertise. Quality. Courtesy.
At Star City Pest Control, we understand that in order to best serve our customers, we must exhibit these three qualities. We have to know what we're doing, be able to do it in the best possible way, and do it while providing exceptional customer service.
See the difference these qualities make when you choose Star City Pest Control.
Request Your Free Inspection Today
Complete the form below to schedule your no obligation inspection.
*wildlife inspections start at $99.